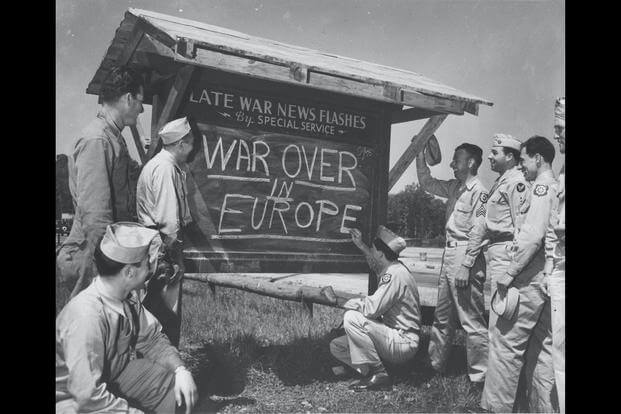 Historian Rick Atkinson reflects on the meaning of Victory Day on his 75th birthday
May 8 marks the 75th anniversary of VE Day, commemorating the end of World War II in Europe. "Race to Victory: WWII Europe," a new documentary on the 100 Days to May 8, 1945, will premiere May 4 at 9 p.m. ET / PT on the Smithsonian Channel.
Pulitzer Prize-winning historian Rick Atkinson is a major player in the film, sharing the expertise he gained while writing the famous World War II liberation trilogy in Europe. "An Army at Dawn", "The Day of Battle" and "Guns at Last Light" are modern classics in popular history, and it kicked off a new series with the equally acclaimed "The British Are Coming", volume one of a new trilogy on the American Revolution.
"Race to Victory" is scheduled to repeat on May 8 at 8 p.m. ET, and the show will air continuously on the Smithsonian Channel apps.
Atkinson told us about Victory in Europe Day and why it's important to commemorate the details of this particular stage in WWII history.
Military.com: Do you have a theory as to why Victory Day doesn't get the same attention as D-Day or Pearl Harbor Day here in the United States?
Atkinson: It has been completely eclipsed by the news. I think it is entirely attributable to the pandemic. I wrote an article for the Wall Street Journal, and I'm sure there are others scribbling and thinking and so on, but it's hard to crack the noise of COVID-19.
Plus, there are diminishing returns on birthday celebrations regardless of the event. Victory Day didn't quite resonate with Americans as the Normandy invasion. Of course, the end of the war is forked with the day of the VJ. I suspect there are millions of people who don't know the difference between them. I don't think it's because people don't really care. I think it's because people are concerned.
Military.com: Of course, "The Guns at Last Light," the third book in your WWII trilogy, is an antidote to that, but it seems people don't know much about the fighting that took place in spring 1945. It is almost as if there was a collective void in the public mind between June 6, 1944 and the dropping of the atomic bomb in August 1945.
Atkinson: I think there were 10,400 Americans killed in action in Germany in April 1945, the last full month of the war in Europe, which counts almost as many as in June 1944, the month of the invasion.
The war was terrible until the end, almost until the last shot. Many people know that the invasion took place in June 1944 and that something unpleasant happened at the Battle of the Bulge that winter. But for the most part, they believe there was a descent path to victory.
Of course, things were much more difficult than that. There were battles like Hurtgen Forest that were as horrific as any fight that took place anywhere in the world during the war. I tried to do my part to educate people, but it's hard to break through, especially 75 years after the fact when you now have three generations alive who have no direct knowledge of war and whose knowledge of the details is quite vague.
Military.com: Sometimes, at the end of a war, it seems a culture makes a collective decision to ignore certain things as a way forward. There has been an incredible amount of destruction in those few months and an immense number of civilian casualties. Do you think there is, consciously or unconsciously, a desire not to talk about this part so much?
Atkinson: Obviously, for 75 years there has been quite a bit of hype to commemorate war in one form or another and including the events leading up to Victory Day. I lived in Brooklyn for three years, and even there May 8 was quite a moment of remembrance and reflection.
But it is certainly true that after every cataclysm, people have to get down to it. Soldiers who were in Europe, my father among them, returned home in the late summer of 1945 and they wanted to go to school or get married or go back to their families or go back to work.
This was generally the sentiment among the 130 million Americans at the time. There are certainly events in those dark months of late 1944 and the first half of 1945 that were simply put aside as part of the national effort to focus on the Pacific. It was not clear what would happen there on May 8, 1945.
I'm not sure the Paderborn shooting or any other nastiness that happened in the early months of 1945 doesn't really catch the eye. It's not as dramatic, and the result was inevitable. So maybe that's part of it too.
Military.com: As someone who knows as much about VE as anyone alive now, what do you think we should be thinking about this May 8?
Atkinson: I spent 15 years of my life thinking about war. Now, I have stepped back a little further in time to the 18th century. The first thing we all need to recognize and commemorate is the fact that of the 16.1 million Americans who were in uniform during World War II, fewer than 400,000 are still alive today. And that number is rapidly decreasing.
A soldier once said, "No war is truly over until the last veteran is dead. By this standard, we are approaching the point where WWII is truly over. It is therefore important.
The post-war period that began in Europe on May 8, 1945, has continued for 75 years now and has given us extraordinary things. First, it has provided the institutions of stability that have been vital to preserving peace and prosperity for most, including NATO and the United Nations, although these appear increasingly fragile, if not outdated.
The history of these institutions and the purpose of these institutions and the whole post-war construction that begins on May 8 was a new beginning for civilization, as well as the end of the greatest and worst war of the history of the species. We must all recognize that these institutions were and remain so vital.
We have seen an erosion of American leadership. We see it today in the COVID-19 pandemic, and it is tragic. There were 291,000 Americans killed in action during World War II. The total of 400,000 Americans who died in the war died for something. They died for the next 75 years that we enjoyed. It is vitally important that their sacrifice and contributions are remembered, commemorated and affirmed, and that we build on what they have built, what they have given us. So I think VE Day is a really important time for reflection, even though we are concerned about other important, critical and alarming things happening in the world today.
Military.com: When will we see the next part of your story of the American Revolution?
Atkinson: Well, I have nothing else on my hands here, right now. I'm tough, hammer and pliers. We come to the first anniversary of the release of the first volume. It took me 15 years to make the three volumes of WWII. I'm not kidding myself that it will be faster.
It is too early to predict when Volume Two will be released. … I'm working hard on it, but it will be several more years. Those of us who work in this revolutionary vineyard are aware of a new word in our vocabulary: half a fiftieth, which means 250th.
The half-fiftieth anniversary of the American Revolution begins in earnest in 2025 with the 250th anniversary of Lexington and Concord. Then we will have the usual parade of commemorations including the Declaration of Independence and all that until 2033 which will be the 250th anniversary of the Treaty of Paris. We all have an eye on that date in 2025, 2026, and I certainly have an eye on it too.
View full article
© Copyright 2021 Military.com. All rights reserved. This material may not be published, broadcast, rewritten or redistributed.