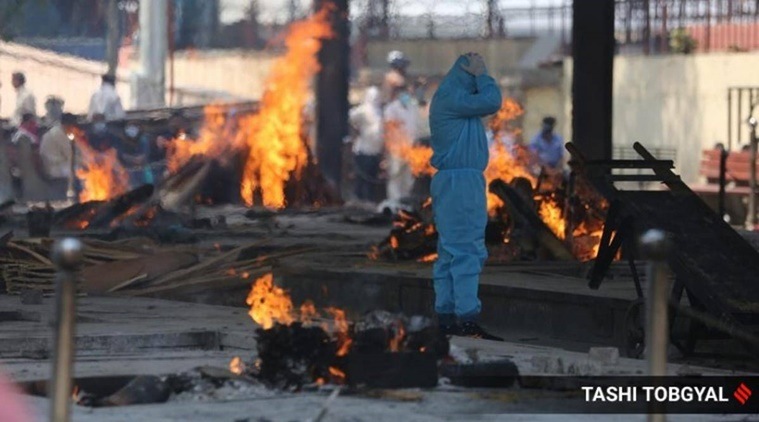 India's Covid toll could be 6 times higher than reported, study finds
The actual toll of Covid-19 in India could be six times greater than the reported figure, a study published Thursday in the journal Science estimating it at 3.2 million. A total of 483,178 deaths from Covid-19 have been officially recorded since the start of the pandemic.
Nearly 71% or 2.7 million of the estimated deaths occurred between April and June of last year, when the Delta wave ravaged the country, the researchers found. In fact, the study indicates that during this period, Covid likely doubled all-cause mortality (total deaths recorded over a period for whatever reason).
"The official cumulative number of Covid deaths in India of 0.48 million implies a Covid death rate of around 345 / million population, or about one-seventh of the US death rate. It is widely believed that the reported Covid death totals in India are underreported due to incomplete certification of Covid deaths and poor attribution to chronic diseases and because most deaths occur in rural areas, often without medical care, "the study says.
The study was conducted by researchers from India, Canada and the United States, including Dr Prabhat Jha from the Center for Global Health Research at the University of Toronto and Dr Paul Novosad from the Department of Economics at Dartmouth. College.
The study used data from a nationally representative telephone survey of 140,000 people, reported deaths in 200,000 public hospitals through the government's health management information system and recorded deaths in the civil registration system of 10 states which accounted for almost half of the official Covid-19. ring.
This data was then overlaid with the United Nations Population Division (UNPD) estimates of deaths from various causes that must have occurred in 2020 to calculate excess deaths.
"Excessive deaths of nearly 3 million. 1. Much higher than official totals. 2. Involves the global tally of COVID deaths of more than 2 million (and more given undercount elsewhere). deaths from COVID around the world. WHO should update its global figures taking this into account, "Dr Novosad tweeted.
"The conclusion of our article was that there were seven to eight times more deaths than what was reported.
This is along the same lines as other studies which all suggest a large undercoverage and it is important to get an estimate of what the third wave would look like. So far, the third wave in other countries has been larger than the second. People tested may change over time (thereby altering the number of reported cases), but the number of deaths is constant, "Dr Prabhat Jha said when publishing the pre-printed study.
Dr Jayprakash Muliyil, Chairman of the Scientific Advisory Board of the National Institute of Epidemiology, said: "Before the pandemic hit India, I calculated the expected mortality based on the age-specific death rate. in Europe ; we have a younger population, so I had adapted to that. Based on my calculations, India was expected to report 2.2 million deaths depending on the dynamics of the infection at the time. When the deaths were reported in the thousands, it was embarrassing. "
"All I'm saying is that a toll of $ 3 million is reasonable."