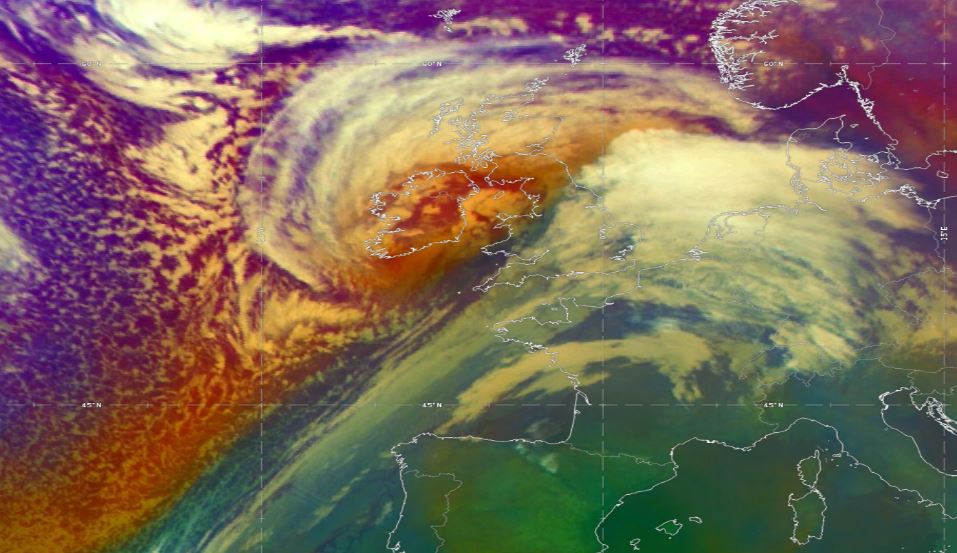 Latest on Storm Eunice – 2 red wind warnings for the south
In addition to red warning issued yesterday for the north coasts of south west England and the south coast of Wales, a red warning was issued for parts of south east England overnight at around 4am. Possibly quite short notice a few hours before it starts at 10am as many will be preparing to go to work, some may not realize a red warning is in place and what that means.
But regardless, extremely strong west to southwest wind gusts of 60 to 70 mph are likely inland below the red warning zone covering parts of southeastern England, maybe 80mph briefly in a few places, mainly towards the Channel coast. In the southwest, the red warning zone is for higher wind gusts of 70 to 80 mph, with gusts of around 90 mph near some coasts.
The Met Office says this is what to expect under the red warning:
Flying debris causing life danger
Damage to buildings and homes, with blown roofs and downed power lines
Uprooted trees are likely
Roads, bridges and rail lines closed, with bus, train, ferry and flight delays and cancellations
Power cuts affecting other services, such as mobile phone coverage
Large waves and beach material are thrown onto coastal roads, beachfronts and homes, including flooding of some coastal properties
Outside the red warning zones, a Amber warning covers much of England and Wales south of a line from Morecambe Bay to The Humber. Even here we can expect wind gusts of 60-70 mph.
There is potential, given the type of cyclone Shapiro-Keyser of this storm, as described in my last blog, that a sharp jet may form on the southwest side of Eunice's southern low center as it clears eastward. Some high resolution models, such as ARPEGE and AROME, hinted at this formation over the North and East Midlands in the early afternoon, with a narrow slot of brief gusts in excess of 80mph. This must therefore be monitored throughout the day. A pitting is usually associated with a narrow band of strong winds developing in the hooked cloud head on the southern flank of the low centre, also in the gap or fracture between the cold front and the warm front. Strong winds caused by jet stream winds and associated dry air descending to the surface manifesting as strong gusts of wind.
Not in the Met Office warnings, but there are also several severe flood warnings for the Severn and Wye estuaries – due to huge Atlantic swells being pushed into the Bristol Channel by Storm Eunice channeled into the narrowing of the channel towards the mouths of the estuary and causing the tide defenses to be overrun at high tide. These severe flood warnings are rare and involve a risk to life.
There are numerous other coastal flood warnings for coasts around England and Wales for the risk of sea or tidal defenses being overrun by large waves at high tide.
Flood warnings for England
Flood warnings for Wales
It's not just the wind that will be a problem from Storm Eunice, heavy snowfall will affect parts of the north throughout the day, particularly higher ground in northern England, England. Northern Ireland and Scotland, but also lower levels in Scotland. Up to 5 cm possible at lower levels, 10-30 cm above 300 m. Given the wet nature of snow and therefore its greater ability to stick to anything, accumulations on tree branches and electrical cables can cause them to fall causing power outages, especially in combination with strong winds , especially on higher ground, which can bring blizzard conditions too. It's worth checking travel updates for road closures on higher routes and also train cancellations.
Chat and discussion about Storm Eunice on the Netweather forum
Latest warnings from the Met Office