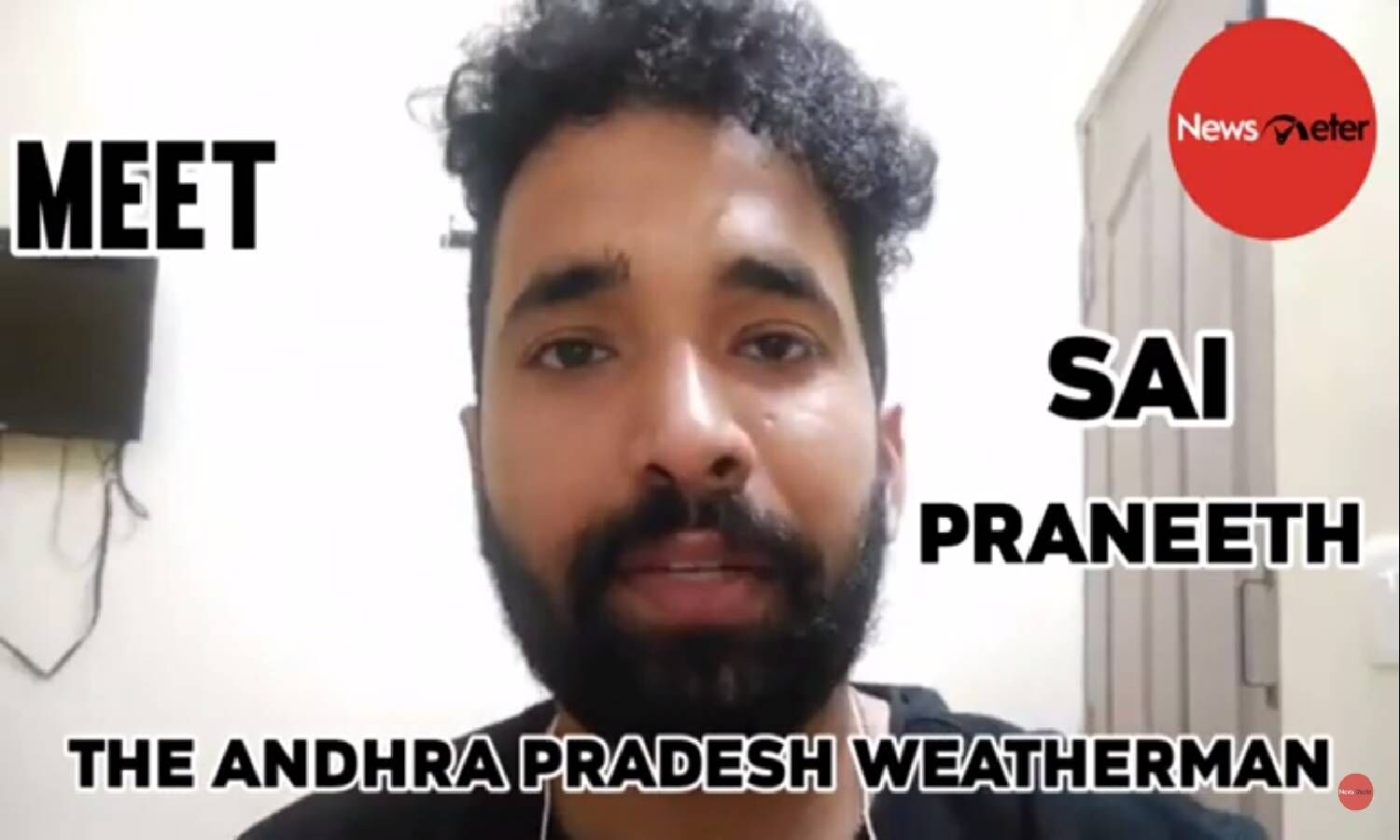 Meet Andhra Pradesh Meteorologist Sai Praneeth
Want to plan a trip? Want to know the weather forecast? Tune in to the B Sai Praneeth weather channel.
Popularly known as the "Andhra Pradesh Weatherman," Praneeth has become a household name with his rapid weather updates on social media. This winter he is also the best to suggest the coolest weekend getaways for tourists.
Originally from Tirupati town in Chittoor district, B Sai Praneeth worked as a software engineer for a reputable company in Bangalore. His passion for studying weather conditions began in class VI.
"My grandparents stay in Vizag. Whenever I visit the city, I go to the beach and look at the clouds. When I was studying electrical engineering at Anna University, I started studying clouds, radar images and weather conditions. Chennai being home to many weather bloggers, has given me the opportunity to interact with them, "says Praneeth
It took almost six years for Praneeth to create a weather updates page on social media, providing accurate weather updates. From 100 subscribers in August 2020, its weather updates have now reached 60,000 subscribers on social networks. "This winter season is the best time to showcase the best tourist spots in Andhra Pradesh, mainly the Vizag agency. As far as I've heard people's comments, my updates have been very helpful to them. plan the trip. Every Monday I get calls and messages from people thanking for the best time they had because of me, "says Praneeth.
During the monsoon, Praneeth uploads videos and the condition of dams and reservoirs to AP. So when a roadblock is about to be released, it warns people so people can enjoy the view.
It also caught the attention of Prime Minister Narendra Modi who follows his weather page on Twitter. Modi introduced Praneeth as a software engineer from Andhra Pradesh who has creatively used technology to help many farmers in Andhra Pradesh whose livelihoods have been affected due to a lack of resources. weather updates in real time.
Praneeth's work has been appreciated and recorded in the journal UN-Habitat which was published in June 2021.
"I had the opportunity to present my point of view at the UN-Habitat convention in June 2020. The newspaper presented my work. He said my weather blog and website were popular with rural farmers. In July, I received the appreciation from Prime Minister Narendra Modi, who spoke about me during 'Mann ki Baat', "says Praneeth.
Many may have wondered how a software engineer takes his time to handle such an important task. Waking up at 5:30 am, it takes 1 to 2 hours to prepare and analyze the daily weather forecast to publish on social networks. Praneeth uses automated data to collect relevant weather information from various websites. He posts daily and weekly weather updates and forecasts to his social media account, including YouTube, Facebook and Twitter.
He takes advantage of his free time at the office to browse radar images on his mobile and alert people to weather conditions. Supporting Praneeth, her sister Prathyusha helps edit and post videos on social media.
"It's not very easy to give weather updates. I created my own code for easy understanding of weather changes in AP. After the recent Cyclone Gulab, Chief Minister YS Jagan Mohan Reddy also appreciated my efforts, "said. Praneeth.