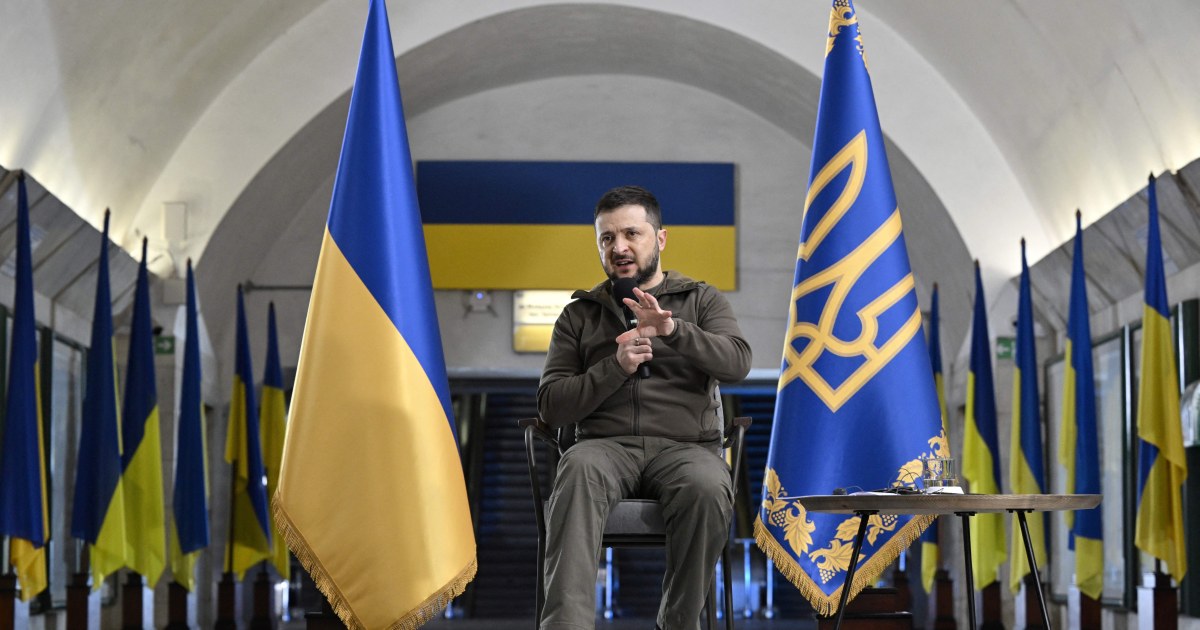 Zelenskyy calls for more weapons ahead of planned visit by US officials
Pope Francis renews his call for an Easter truce in Ukraine
VATICAN CITY — Pope Francis has renewed his call for an Easter truce as Orthodox Christians celebrate Easter Sunday, when worshipers mark the resurrection of Jesus.
Without naming a country, Francis urged the aggressors to "stop the attack to help the suffering of the exhausted people."
Francis told a crowd gathered in St. Peter's Square that two months had passed since Russia invaded Ukraine and said that "instead of stopping, the war got worse. It is sad that in these holiest and most solemn days for all Christians, the deadly clamor of arms is louder than the sound of the bells announcing the Resurrection.
'It was killing me': Mother accuses Russia of forcibly deporting her son from Ukraine
Natalia Demish escaped the horrors of besieged Mariupol last month.
But while now in relative safety in the central Ukrainian city of Dnipro, she was cut off from her 21-year-old son Yuri by the ongoing fighting when she fled.
Demish, 40, says Yuri has now been forcibly deported to Russia, and she fears he will be forced to fight his own country.
Read the full story here.
Red Cross 'deeply alarmed' by situation in besieged Mariupol
The International Committee of the Red Cross said on Sunday it was "deeply alarmed" by the situation in the beleaguered port city of Mariupol in southern Ukraine, whose population it said was in "urgent need of help".
The ICRC called for "immediate and unimpeded humanitarian access" to allow the safe passage of thousands of civilians and hundreds of wounded out of the city, including from the Azovstal factory area, where Ukrainian soldiers and civilians are resisting.
"Every day, every hour that passes has a terrible human cost," he said.
Russia claimed to have taken control of the strategically important city last week.
The town has been at the center of what Ukrainian officials and aid organizations have called a humanitarian catastrophe, where residents are surviving on little or no water, food, medicine and electricity.
Ukrainian authorities have accused Russian forces of refusing to allow humanitarian aid to flow into the city from Ukraine. Both sides have accused each other of not respecting the conditions of the humanitarian corridors to get civilians out of the city. Ukraine also accused Russia of forcibly deporting residents of the city to Russian territory.
Zelenskyy accuses Russia of killing 'tens of thousands' in Mariupol
Orthodox Christian spiritual leader says 'indescribable human tragedy is unfolding' in Ukraine
The spiritual leader of Eastern Orthodox Christians around the world on Sunday called for the opening of humanitarian corridors in Ukraine, where he said "an indescribable human tragedy is unfolding".
Ecumenical Patriarch Bartholomew, who has previously called for an end to the war, said he hoped Easter would be "the impetus to open up humanitarian corridors, safe passages to really safe areas for the thousands of people surrounded in Mariupol".
"The same goes for all other regions of Ukraine, where an indescribable human tragedy is unfolding," Bartholomew said after an Easter service in Istanbul, where he is based. "We call once again for an immediate end to the fratricidal war which, like any war, undermines human dignity",
His comments came after the head of the Russian Orthodox Church, whose support for Moscow's "special military operation" in Ukraine has appalled many Christians, said on Saturday he hoped it would end soon, but again did not condemn him.
Ukraine has repelled numerous Russian attacks, UK MoD says
Ukraine repelled numerous Russian assaults along the line of contact in its eastern region of Donbass this week, according to a briefing from the British Ministry of Defense.
Although Russia made territorial gains, Ukrainian resistance was strong on all axes and inflicted a significant cost on Russian forces, he said.
"Poor Russian morale and limited time to replenish, re-equip and reorganize forces from previous offensives are likely hampering Russia's combat effectiveness," he added.
8 people die in attacks in Lugansk, according to the regional governor
Eight people have been killed and two others injured by Russian shelling in recent days, the regional governor of Lugansk in eastern Ukraine announced on Sunday.
Serhiy Haidai said at least seven homes and a police station were hit in a message on the Telegram messaging app which was translated by NBC News.
"The Russians fired 12 times at the peaceful homes of Luhansk residents on April 23," he said. "Among the towns affected are Hirske, Zolote, Lysychansk and Sieverodonetsk, among others."
Haidai said 6 people died and two were injured following Saturday's artillery attack on the towns of Gorskoye and Zolote. He added that two women who were trapped by a strike on a building in the town of Popasna several days ago also did not survive.
The bombardment comes as the Russians continue their offensive to take full control of Donbass, the industrial heartland of eastern Ukraine.
'They were trying to escape': Ukrainian man says he saw Russian forces shooting at civilians
HAVRONSCHHYNA, Ukraine — Driving past unspeakable fields in the countryside near kyiv, it's easy to miss a small family car abandoned by the side of the road.
But the vehicle – riddled with bullets, littered with baby clothes and splattered with human remains – is a microcosm of the horror that has descended on Ukraine.
It is also an example of the heroism that has allowed it to endure.
"It was chaos. I couldn't feel anything. I was numb. Some people were trying to hide in my house. I was trying to pick up injured people," said Yuriy Patsan, 42, a mechanic, describing the March 15 incident that ended with the car stuck outside his house on the edge of this small village of around 1,000 people about 30 miles west of the capital, kyiv.
The vehicle is now one more piece of a giant puzzle for investigators collecting evidence of alleged war crimes committed by Russian forces, a charge they deny. Moscow has also repeatedly denied that it was targeting Ukrainian civilians.
Read the full story here.
'We ask God for a great grace,' says Zelenskyy in Easter message
As Ukrainians celebrated Orthodox Easter Sunday, President Volodymyr Zelenskyy sent a message of support and faith to his compatriots.
"At Easter, we ask God for a great grace, to realize our great dream – for another great day, a day when great peace will come to Ukraine. And with it – eternal harmony and prosperity," Zelenskyy said in an Instagram Publishaccompanied by a video of him walking through the historic Saint Sophia Cathedral in kyiv.
"With faith and trust in this, I wish you all a happy Easter," he said. "Take care of yourself. Take care of your loved ones. Take care of Ukraine," he added.
8 dead in missile attack on Odessa, says Zelenskyy
Eight people were killed and at least 18 others injured in a missile attack on the Ukrainian city of Odessa on Saturday, Ukrainian President Volodymyr Zelenskyy said.
"Ordinary peaceful people. Among the victims is a 3-month-old baby girl. How did she threaten Russia? Zelenskyy said in an address, an English version of which was posted on the Ukrainian president's website.
Video following the missile strike in the southern port city showed rescuers rappelling along a damaged building in search of survivors or injured people.
A building damaged after a Russian bombardment in Odessa
A damaged apartment building after a Russian bombardment in Odessa, Ukraine on Saturday. Ukrainian officials reported that Russia fired at least six cruise missiles at the Black Sea port city.
Russian command post in Kherson destroyed, Ukrainian army says
Ukraine's military said on Saturday it had destroyed a Russian command post in Kherson, a southern city that fell to Russian forces early in the war.
Ukraine's military intelligence agency released a statement saying the command post was hit on Friday and two generals were killed and one seriously injured.
Oleksiy Arestovych, adviser to Ukrainian President Volodymyr Zelenskyy, said in an online interview that 50 senior Russian officers were in the command center when it was attacked. He said their fate was unknown.
The Russian military did not comment on this claim, which could not be confirmed.